Cogent Manufacturing Solutions
Contact or call 603-898-3212 to discuss your capital equipment needs.
---

Chemcut has been recognized as the world's leading manufacturer of wet processing equipment since its founding in 1957. With an installed base of more than 15,000 wet processing systems worldwide, Chemcut is uniquely qualified to meet stringent manufacturing demands in a variety of industries: Chemical Milling, Sign & Nameplate, Printed Circuit Board, Metal Finishing and Industrial Waste Water Treatment.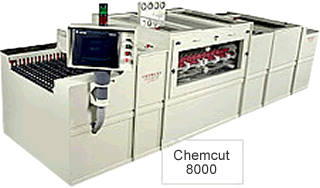 We offer a wide range of equipment configurations, optimally matched for specific processes, including...
Acid and alkaline cleaning
Photo-resist stripping
Tin and tin/lead stripping
Dry film developing
Acid and alkaline etching
Oxide alternatives
Continuous innovation and unmatched customer service were founding principles at Chemcut five decades ago. Our focus on and dedication to those principles have enabled us to maintain our leadership role in the metal finishing equipment industry over the years, and today, make Chemcut the obvious choice to serve your organization's machine and equipment needs.
---

As a leading company in the PWB manufacturing systems industry, Hitachi Via Mechanics has been providing a broad range of products including PWB Mechanical Drilling Machines, Routing Machines and Laser Drilling Machines. We have also commercially introduced other products including Hole Analyzer and Printed-circuit Motherboard Products.
These solutions have an excellent reputation and have earned a high level of customer confidence due to Hitachi Via's dedication to supporting and servicing our customers. Our Service Group covers North America with a large team of service engineers who are in-turn supported by our factory in Japan.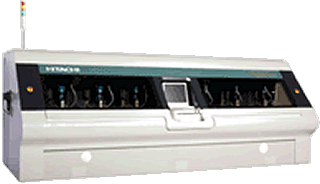 Here in the US and in Japan, Hitachi Via develops laser and mechanical material processing technologies with an eye on future markets. The Emerging Technologies Group works with researchers around the world, our vendors and customers to develop processing techniques necessary for maintaining the leading edge in manufacturing technologies. Most developments are customer centric and lead to improvements that boost efficiencies on our customer's factory floors.
We invite you to contact us to learn more about how partnering with Hitachi Via for solutions to manufacturing can provide an edge in your market sector.
---

Mutracx is an Océ spin off. Our primary focus is to revolutionize and dominate the PCB inner layer production market. mutracx will produce the first fully digital inner layer printer based on inkjet technology. We have called this machine Lunaris.
Lunaris offers exceptionally high yield and productivity. 100% yield into the etch line is guaranteed by on-board AOI process validation. As such, mutracx provides the world's first true industrial inkjet solution for PCB manufacture.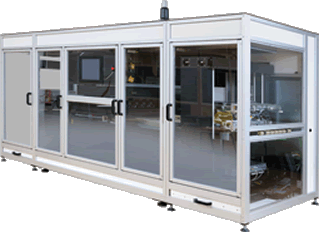 By digitizing the inner layer manufacturing process, replacing the current lithographic process with a simple one step solution, we offer significant cost advantages by means of:
Yield
Labor
Running costs
Environmental impact
Reduced complexity
Reduced lead-times
---

If you are looking for maximum efficiencies, look no further than our
Smart Parts Classic
. This is the most powerful automation tool for a drill room ever offered. You will immediately see a reduction in set-up time and scrap, while reducing the need for operator input. And because Smart Parts automatically manages the feed and speeds, every job will be drilled correctly.